Cleanliness is Godliness. Such words are quoted for human good. The sense behind this is to promote the idea to spread cleanliness and live in a healthier and greener environment. Godliness is the holy worship of God and Cleanliness is thus considered next to it because to live and pursue a healthy life is of utmost importance. Cleaning a house is never an easy job, however cleaning your house and kitchen by using smart and easy available things like vinegar, oils salt etc can make it less of a headache. Nothing is better than starting the cleaning exercise from home itself because a spick and span house with no spots is pure bliss. Cleaning is an expensive process because of the involvement of a lot of chemicals and fertilizers. Therefore, it is always better to go for some cleaning hacks which are affordable and are also highly efficient in showing mind blowing results. Here's a life changing list of 20 cleaning hacks which can do wonders to offer a fresh and healthy environment:
Cleaning Hack 1: Sink Cleaning For Shine & Brightness
Photo Credit: Credit: http://uglyhousephotos.com/wordpress/wp-content/uploads/2014/06/140623l.jpg
We often clean our kitchen sink by draining water throughout the day but that doesn't kill the bacteria present there. You can fight with it by simply staining your sink. Baking soda can be sprinkled and the sink can be cleaned with a sponge in a circular movement along with a lemon peel for a shinier look. There is a step by step process to clean your sink and keeping it safe without using any harmful chemicals is of utmost importance.
Material Required:
1. Dish washing liquid soap
2. White vinegar (Distilled)
3. Baking soda
4. Four
5. Ice and sea salt
Tools Required:
1. Any old tooth brush.
2. Soft sponge
Instructions:
A mild soap with soft sponge can be used to clean the sink on daily basis, you should avoid using abrasive sponge which can harm the finish of the sink.
If your sink is full of stains, just put some baking soda on the sink's surface and rinse. Cover the sink with paper towels dipped in white vinegar. Let it remain for 20 min and then dispose of the paper towels.
Than rise the sink using the warm soapy water .use toothbrush to wipe the areas which are not easily accessible for hard stains wipe it cloth dipped in white vinegar. Once done completely, rinse the sink with water thoroughly and then dry it with soft cloth.
Cleaning Hack 2: Cleaning the Washing Machine
Photo Credit: http://www.practicallyfunctional.com/clean-washing-machine-with-vinegar/ 
If your washing machine stinks and if you have never thought of cleaning this hard working appliance, this is the right time to do it. By simply following these steps you can have an odorless washing machine.
Material Required:
White Vinegar, Bleach
Old cloth or cleaning rag
Hot water
Instructions.
You can start with cleaning it by setting its temperature to the highest and for a longer duration.
Then add four cups of white vinegar into the hot water and close the lid and let it remain there for few minutes.
Open the lid and then stop the machine to let the mixture stay for an hour so that vinegar can clean all the bacteria.
Cleaning Hack 3: Removing Mildew Smell from Towels
Photo Credit: http://www.mom4real.com/remove-mildew-smell-towels-clothes/
 We often forget to dry our wet towels which later smell like mildew. Here's an old trick to get rid of that mildew smell which works like charm.
Material Required:
White Vinegar (Distilled)
Tools Required:
Washing Machine
Instructions:
Turn your washing machine on and set it on high temperature. Please note not to add any washing detergent. Simply pour a cup of vinegar and let it do its magic.
Put the towel in the dryer, mildew smell will automatically go away, leaving your towel smelling fresh and new. If the towel is too smelly, repeat the process but instead of using vinegar, use baking soda which will completely rid the towel of mildew smell.
Cleaning Hack 4: Cleaning Toilet quickly
Photo Credit: https://upload.wikimedia.org/wikipedia/commons/thumb/e/ea/Dirty_toilet.JPG/800px-Dirty_toilet.JPG
 Material required
All-purpose cleaner
Toilet bowl cleaner
Paper towel
Tools Required
Cleaning Tooth Brush
Rubber Gloves
Toilet Bowl Brush
Instructions
Spray the all-purpose cleaner in your toilet top to bottom including tank, flusher, seat, base, exterior bowl etc. Let the cleaning solution stay to break down the dirt completely.
Then add the angled toilet bowl cleaner into the bowl which will help in applying the solution under the rim easily. Move the nozzle gently around the inner rim of the bowl and spread the product in the even flow.
Now start the wiping process with paper towel by wiping the tank cover, flush tank and change the paper towel. Then wipe the hinges, flip the lid up and wipe the bottom of the lid and again change the paper towel. Now clean the side of the flush. You can even clean the area behind toilet using the mop instead doing it by hand.
Now use your toothbrush and spray it with a bit of all-purpose cleaner. You can use it to clean hinges and wipe out any kind of material build up on the hinges.
Then take your toilet bowl brush and swirl it under the rim and then move the brush around and inside the bowl till it cleans the toilet completely.
Now it's time to flush the toilet and let the water clean it.
Cleaning Hack 5: Disinfection of the Mattress
People move inside and outside the house throughout the day so do insects and ants and thus cleaning the mattress frequently is quite essential. The mattress can be disinfected by filling up the spray bottle with vodka which should be sprayed on the whole of it. Insect and ants get the easiest way to sneak into the house so to keep them away we need to be more cautious about the cleanliness of the mattress on a regular basis.
Cleaning Hack 6: Carpet Cleaning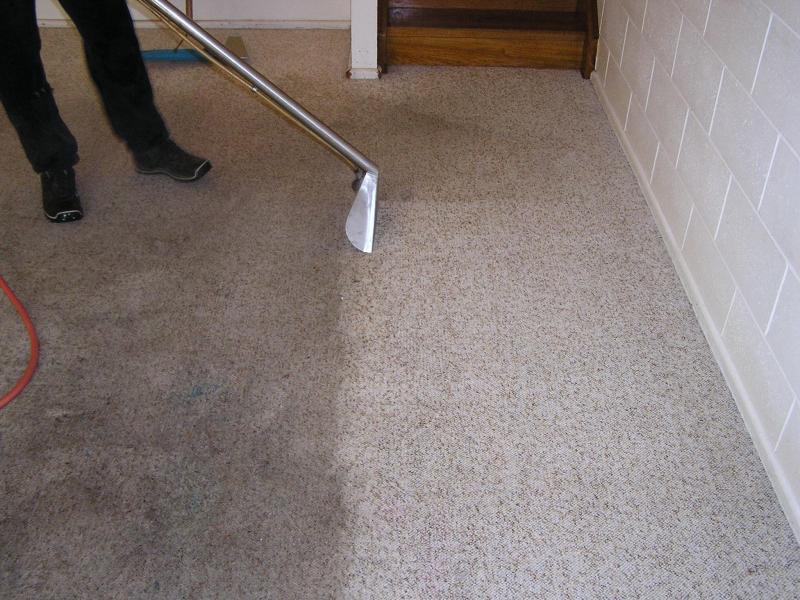 This is an amazing hack for all those pet lovers whose pets shed hair. The carpet in the house can be cleaned with the help of a rubber squeegee.
Cleaning Hack 7: Toaster Cleaning
Photo Credit: http://www.anneopinion.com/
The toaster tends to build up sticky skin with the passage of time. There's a magic trick to take off that dirty skin which can make your toaster look clean as if you bought it today.
 Material Required
Tools Required
Instructions:
Mix one tablespoon cream of Tartar with few drops of water
Rub the above solution on the appliance
Scrub the appliance with sponge and wipe it with damp paper towel
Cleaning Hack 7: Cleaning Burnt Utensils
 Photo Credit: http://www.apartmenttherapy.com/how-to-clean-burnt-pots-scorched-pans-140547
We often get disappointed while making food when we get to see burnt utensils and it's quite painful to clean it. Here is a simple trick to solve the problem.
Material Required
Hydrogen Peroxide
Baking Soda
Tools Required
Instructions:
Pour a little amount of hydrogen peroxide on burnt utensils and sprinkle and then take baking soda and spread over it.
Then swirl the utensil to let the baking soda and hydrogen peroxide mix with each other.
Leave the mixture stay for 5 to 6 hours, the mixture will lift the burnt residue up.
Finally use the scrub brush to wipe the residue away. Your utensil will shine like a new one. This is really an amazing trick to lift the burnt stuff away.
Cleaning Hack 8: Cleaning the cast iron
Photo Credit: http://dish.allrecipes.com/how-to-season-clean-cast-iron/
As we cannot use any soap on cast iron, however we can protect our cast iron by cleaning it with the help of olive oil and salt. It is quite easy to prepare.
Put a tablespoon of olive oil into the skillet and add sea salt. Then rub it with a cloth. And once it's clean, wipe the salt out and apply a thin layer of oil.
Cleaning Hack 9: Cleaning the Microwave
Photo Credit: http://www.thesneeze.com/popcornspiracy/
Making food in microwave leads to a big mess which needs to be cleaned in order to use it again. Always look for a natural way to clean it. Simply put a wet sponge in the microwave and spray water, mixed with essential oils inside it. Now microwave it for 2 to 3 minutes. Just let the sponge cool down and use it to wipe everything.
 Cleaning Hack 10: Cleaning the Bath Tub
Photo Credit: http://galleryhip.com/personal-hygiene-in-the-workplace-toolbox-talk.html
Your bathtub gets dirty and gets stains on it. For a cleaning your bathtub, the normal liquid soap can be teamed up with a few drops of antibacterial oil and baking soda.
 Cleaning Hack 11: Cleaning the Wooden Surfaces
Photo Credit: http://www.wikihow.com/Remove-a-Red-Wine-Stain-from-a-Hardwood-Floor-or-Table
 If you have very old furniture which you don't feel like disposing off but you left with no choice due to stubborn stains. The wooden surfaces should be cleaned with the help of a hair dryer and later refreshed with olive oil. Olive oil will give shine to your expensive wooden furniture which could be used for many more years.
 Cleaning Hack 12: Inside the Refrigerator
Photo Credit: http://lemcleaningservice.localblogs.org/3-things-people-frequently-forget-to-clean-but-shouldnt/
Cleaning of electronics items is very risky and dangerous. Thus we have found the easiest way to clean the refrigerator .The inside parts of the refrigerator should be cleaned by first removing them very carefully and then using ammonia and cold water. The stubborn stains can be removed by using the toothpaste.
 Cleaning Hack 13: Cleaning the Faucets
Photo Credit: http://telefanaticos.com/classy-bathroom-decoration-faucets/trendy-bathroom-idea-faucet-cleaning-mode/
This is the most common and important thing to be cleaned religiously. The tap of the sink should be vigorously rubbed with wax paper to remove water spots. It really works well and is hygienic also.
 Cleaning Hack 14: Drying the Wet Shoes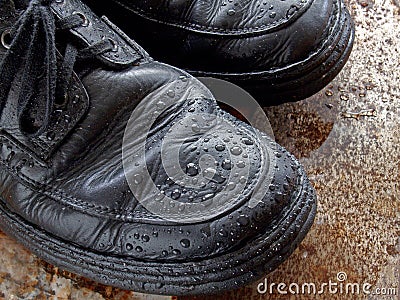 Photo Credit: http://es.dreamstime.com/photos-images/zapatos-mojados.html
 Wet shoes are always a great problem especially in the rainy season as stinks like anything. So here's a very simple trick to dry the wet shoes quickly.
Material Required:
Newspaper
Instructions:
Simply place the newspapers inside the wet shoes which will help soak the moisture from your wet shoes.
Cleaning Hack 15: Stove Shining
Photo Credit: https://lnscleaning.wordpress.com/
A stove looks beautiful and excellent if we clean it every time when we cook. It can be cleaned by rubbing with thin car wax layer to provide shine to the stove. This also prevents the food particles from sticking.
Cleaning Hack 16: Cleaning the Greasy Stains
Removal of grease stains is a very difficult thing to do, but here's the easiest way to remove the grease stains. Grease stains can be removed from the walls of the house by rubbing them with chalk and then wiping them off with a wet towel.
 Cleaning Hack 17: Cleaning the Silverware
Photo Credit: http://www.thedomesticcurator.com/2013_03_01_archive.html
The utensils made of silver can be effectively cleaned with baking soda by applying it on cotton.
 Cleaning Hack 18: Cleaning the Cabinet Doors
Photo Credit: http://www.kitchenmagic.com/wp-content/uploads/2015/03/Kitchen%20Magic%20Care%20&%20Maintenance%20of%20Your%20New%20Kitchen.pdf
Vegetable oil along with the baking soda applied on a toothbrush can be used.
 Cleaning Hack 19: Sparkling the Tupperware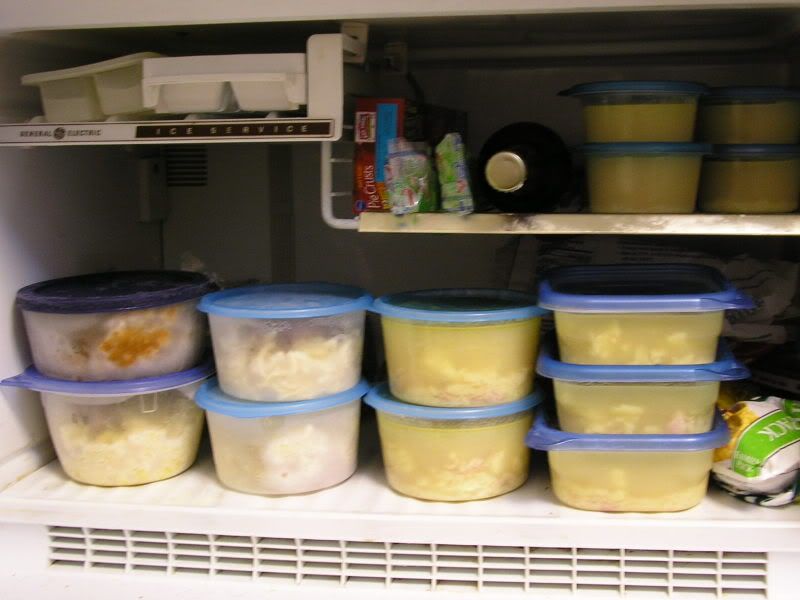 Photo Credit: http://www.nockergeek.net/tag/army-list/page/5/
In order to neutralize your bottles, you should fill them with water. Put soap along with some bleach in it and further keep it in the microwave till the mixture starts boiling.
 Cleaning Hack 20: Cleaning the Hair Brush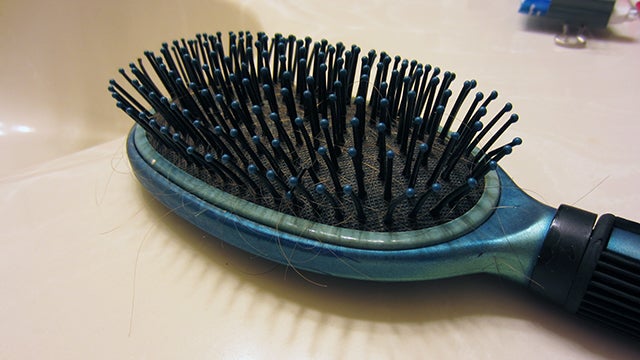 Photo Credit: http://lifehacker.com/5928644/keep-your-hairbrush-clean-with-pantyhose
Hair brush is something which one uses every single hour and this can be cleaned with the help of shampoo.
How many of these cleaning hacks have you already used? Do let us know in the comment box below?
---